Verifications Save Time at the Dealership
By Ashley Morris
Generally, the most time-consuming part of the buying process is negotiating price and payments. Verifications save time at the dealership and can help improve this process.
Stay Informed
Subscribe and never miss a post.
Price and Payment Negotiations Slow Down the Buying Process
Many showrooms are starting to reopen giving consumers the option to visit dealerships in person. With social distancing requirements in place, speeding up the buying process is more important than ever. Generally, the most time-consuming part of the buying process is negotiating price and payments.
Most lenders require proof of income and employment during the loan application process in order to approve the loan. But many buyers don't come prepared with the information required to verify their employment and/or income. This is especially true in the case of first-time car buyers. This can leave the consumer scrambling to log into their employer website, bank account, or even leaving the dealership altogether to secure a pay stub.
Dealers need a more efficient way to help streamline this frequently time-consuming part of the process. Ultimately, they want to avoid potential lost sales from consumers who don't return to complete their purchase. Verifications save time at the dealership and can help improve this process.
Most Buyers Are Dissatisfied with the Wait
According to a study conducted by Cox Automotive, over 50% of the time spent in a dealership occurs during steps that involve money and paperwork. In fact, 54% of car buyers say they are dissatisfied with how long the process takes.
So why does it often take so long? Lenders review the consumer's credit application and credit file to determine if they need any additional information to complete the deal. This additional information usually consists of income and employment verification, which requires the consumer to secure a pay stub or bank statement. An additional concern during loan application is inaccurate or fraudulent information.
In one Equifax study, borrowers who overstated their income on an auto financing application by more than 20% had a serious delinquency rate (60 or more days past due). This is more than triple the rate of borrowers who did not inflate their income. Situations like these are both time consuming and risky. Potentially, they can lead to loan abandonment if the consumer has to leave the dealership. This also puts the dealer at risk of buy-backs in the event of misstated or inaccurate information.
The ROI of Instant Income and Employment Verifications
An external firm hired by Equifax completed qualitative research with franchise, independent and buy here - pay here dealers. They represented 100+ rooftops across the United States. During interviews, dealers identified many pain points throughout the buying process - from online to application to funding. The results were unanimous.
Dealers all agreed that it's a major pain point to get consumer-provided application data verified, especially when it comes to funding.
Additionally, they agreed that having the option to instantly verify income and employment of potential buyers could save time at the F&I desk. Dealers liked the fact they wouldn't have to send their customers away to secure a pay stub to clear proof of income. This simple change could allow them to close more deals in one day, while improving the customer experience. After the interviews were completed, Equifax was able to put together a solid ROI to show the benefits of instant income and employment verifications.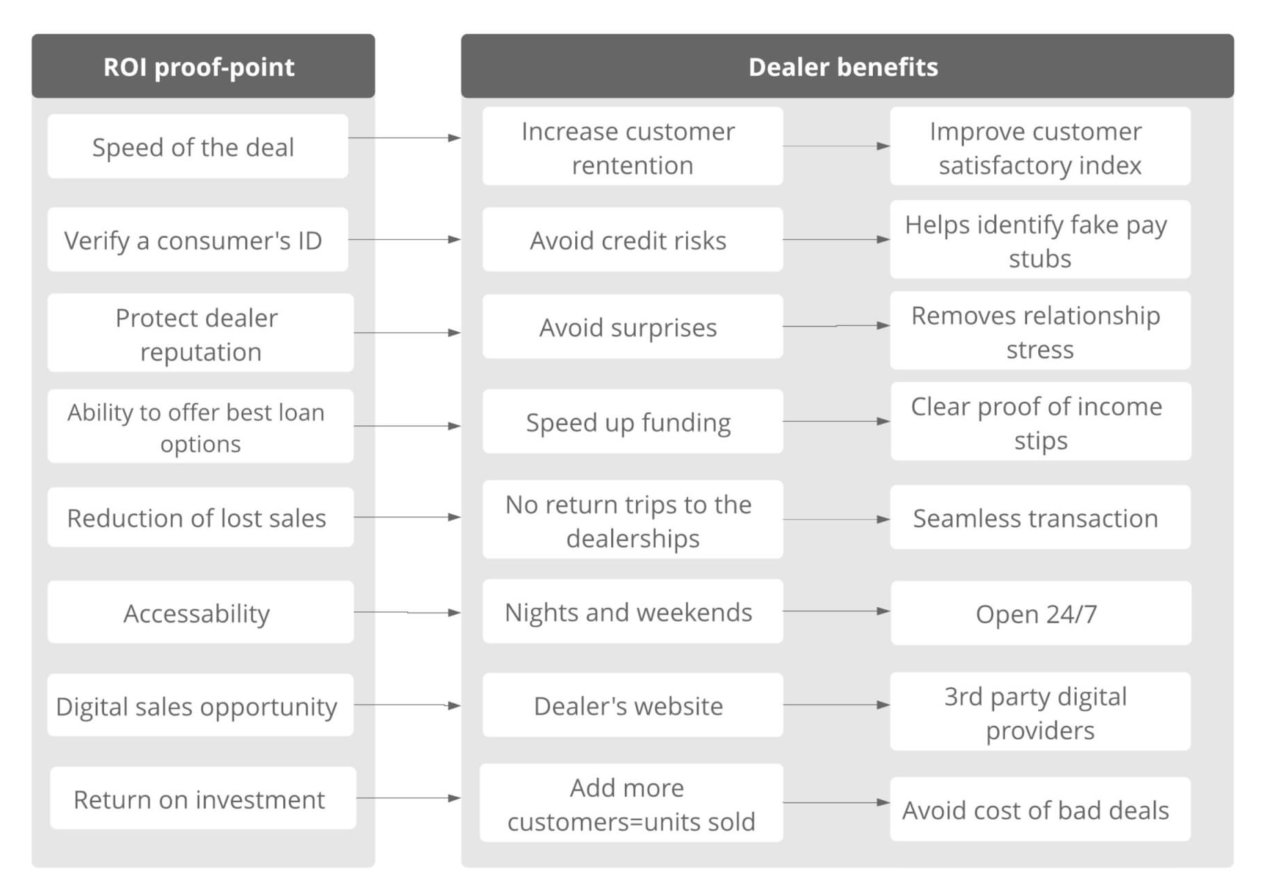 Gain a Competitive Edge
The Work Number® from Equifax ihas the largest centralized commercial repository of payroll information in the United States. It consists of more than 700,000 small, medium and large employers contributing data each pay cycle. This gives dealers access to over 105 million active records.
The car buying process is time consuming and taxing for both consumers and dealers. The Work Number from Equifax can help make the overall buying process less stressful and more efficient for everyone. It also helps provide consumers with a more ideal car buying experience. This in turn can help dealers gain a competitive edge against their competition.
1- https://www.coxautoinc.com/wp-content/uploads/2018/02/253163_2018_EmotionalConnectionsStudy_DigiBrochure_FINALIZED.pdf 2- *Equifax Internal Study of The Work Number Inquiry Data, December 2017. United States auto loans. Individual results may vary. Understated income is when stated income is 20% less than The Work Number and overstated income is when stated income is 20% more